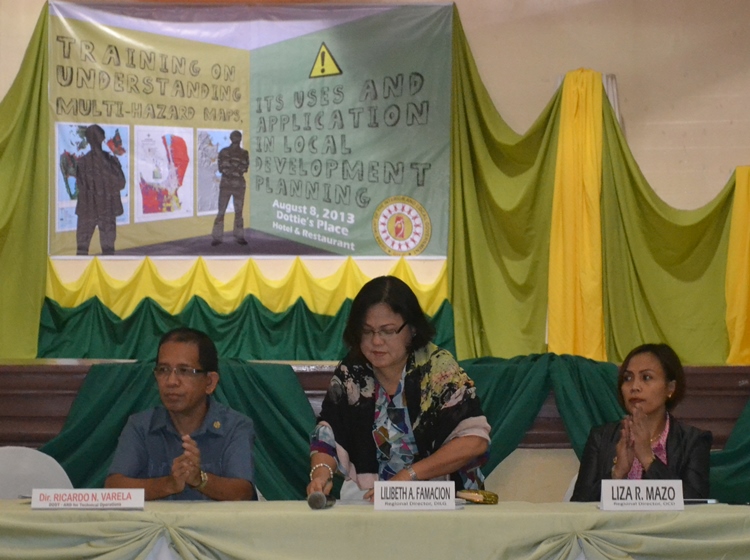 3 Mayors, 44 Punong Barangays, 10 Barangay Kagawads, 49 Barangay Secretaries, and 17 Municipal Disaster Risk Reduction Management Officers (MDRRMO), among others coming from Local Government Units (LGU) along the Agusan River Basin, attended the Roll-Out Training on Understanding Multi-Hazard Maps, its Usage and Application to Local Development Planning organized by the Department of the Interior and Local Government (DILG) Caraga Regional Office last August 8, 2013 at Dottie's Place Hotel and Restaurant, Butuan City.
The whole-day training sought to bring out an understanding and appreciation of Multi-Hazard Maps vis-à-vis local development planning. During the activity, current Disaster Risk Reduction Management (DRRM) practices were discussed by Regional Director Liza Mazo of the Office of Civil Defense (OCD); Early Warning System and Project NOAH were related by Mr. Roy Badilla of the Philippine Atmospheric, Geophysical and Astronomical Services Administration (PAGASA); Understanding Hazards was presented by Ms. Madeline Cahulogan from the Philippine Institute of Volcanology and Seismology (PHIVOLCS); and Reading and Interpretation of Hazard Maps was relayed by ­­­­­Mr. Melvin Mantilla and Ms. Elaine Galido of the Department of Environment and Natural Resources - Mines and Geosciences Bureau (MGB-DENR). 
To tie together all that has been discussed, the participants underwent a hazard map reading and interpretation workshop. This allowed the participants to read and interpret particular quadrangles of hazard maps provided by the MGB and relate them to the actual scenarios in their own localities.
 It is hoped that the exercise, along with the various key inputs, will give participants insights on the implications of hazards particularly in their local development plans and programs. In her message to the participants, DILG Regional Director Lilibeth A. Famacion stressed how important it is to map out the risks to be better prepared for calamities. OCD Director Mazo concurs in her message by emphasizing the need to shift paradigms—from disaster relief to disaster risk reduction.
Disaster preparedness is no longer just a flavor of the month. It is a cause that many Filipinos resonate with and share concern in. Just a few days earlier, the region celebrated their National Disaster Consciousness Month (NDCM) Culmination Program and Regional Awarding of Gawad KALASAG 2013 also in Butuan City.
Environment-Protective, Climate-Change Adaptive LGUs is one of the main outcome areas of the DILG, as drawn from PNoy's Social Contract with the Filipino People.  (Don Manuelo O. Patrimonio, Statistician I, DILG Region 13-Caraga)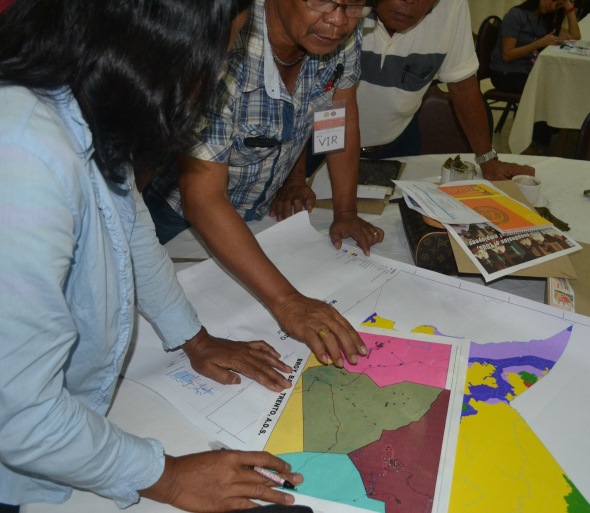 Details

Published: 30 August 2013