The Department of the Interior and Local Government – Caraga Region (DILG XIII), in partnership with Fr. Saturnino Urios University (FSUU), will be conducting a regional public consultation pertaining the abolition or reformation of the Sangguniang Kabataan (SK).
Set to transpire at 1-5 pm on August 23, 2013 at the FSUU AVR2, the activity has called on several representatives from the SK itself, as well as from schools; youth organizations; Local Government Units leagues; National Line Agencies with youth concerns; key political leaders including Punong Barangays; and other Civil Society Organizations.
The public consultations are being done across the country and have been directed by the Office of the President and the DILG Central Office. In a memorandum dated August 14, 2013, DILG Undersecretary Austere A. Panadero directed all DILG regions to conduct the public consultations within August 19-27 of this year. He acknowledged that the Philippines has always been at the forefront in Asia in promoting youth involvement in local governance through the SK, but he also cited that some sectors have raised issues regarding the effectiveness of SK as a mechanism for promoting youth leadership and engagement. It is because of this that two general views have been raised regarding the SK: one is to institute reforms to the SK structure and delivery systems, and the other was extreme—to abolish the SK in its entirety.
Much has been discussed about the matter in several occasions, especially at the national level. Several key personalities (e.g. senators, congressmen, etc.), sectors and agencies have already made their stand. It is with this that the activity on Friday seeks to elicit our own (i.e. Caraga Region's) views and generate a broadly-based consensus on categorical support or non-support to either reform or abolish the SK; and whether or not to push through with the SK elections in October 2013.
The result will be the region's position in response to the matter which will be considered in the whole discussion about the eventual fate of our youth's participation in local governance. (Don Manuelo O. Patrimonio, Statistician I, DILG Region 13-Caraga)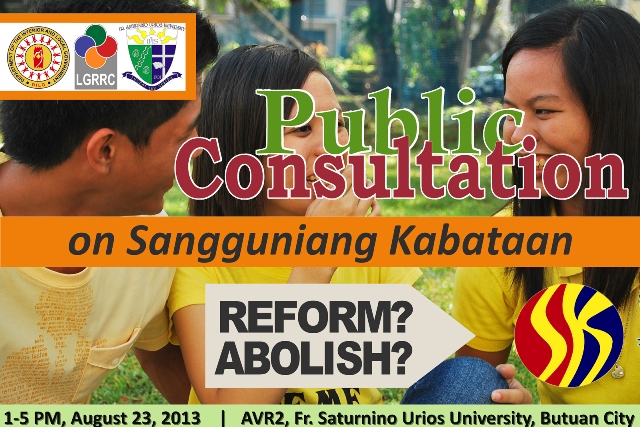 Details

Published: 30 August 2013