Broadcasters and staff of the different AM, FM and TV stations around Butuan City along with students, street children, and representatives from the Department of the Interior and Local Government (DILG), Philippine National Police (PNP) and partner establishments joined efforts to plant trees during the 2013 OPLAN Broadcastreeing: The Urban Greening Project in Barangay Masao, Butuan City last September 6, 2013.

Participants were mostly coming from the Kapisanan ng mga Brodkasters ng Pilipinas (KBP) Butuan City Chapter, but were joined by students from Grand View College; street children accompanied by Butuan City Councilor Atty. Rema Burdeos and Butuan City Police Office (BCPO) deputy police director PSupt Romy Palgue; participants from the PNP, DILG, and the private sector, particularly Almont Hotel and Nature's Spring.

The group gathered at around 6am at the Guingona Park where a brief opening program was conducted followed shortly by a hataw warm-up routine.

A convoy proceeded that led all the way to Barangay Masao with vehicles provided by KBP partner members, the city government of Butuan, and Councilor Sergio Pascual.

Armed with their own planting implements and the seedlings provided by the Department of Environment and Natural Resources (DENR), the participants lined the street and planted some 600 seedlings mostly narra (Pterocarpus indicus) and talisay  (Terminalia catappa).

Personnel from Barangay Masao, under the leadership of Punong Barangay Bernardo A. Perez, assisted the planters by preparing the planting sites. They will also take charge of monitoring and maintaining the trees that have been planted.

The activity in Masao was part of a national tree planting campaign held simultaneously across the country.

This is in support of the National Greening Program (NGP) per Executive Order No. 26, Series of 2011 dated February 24, 2011.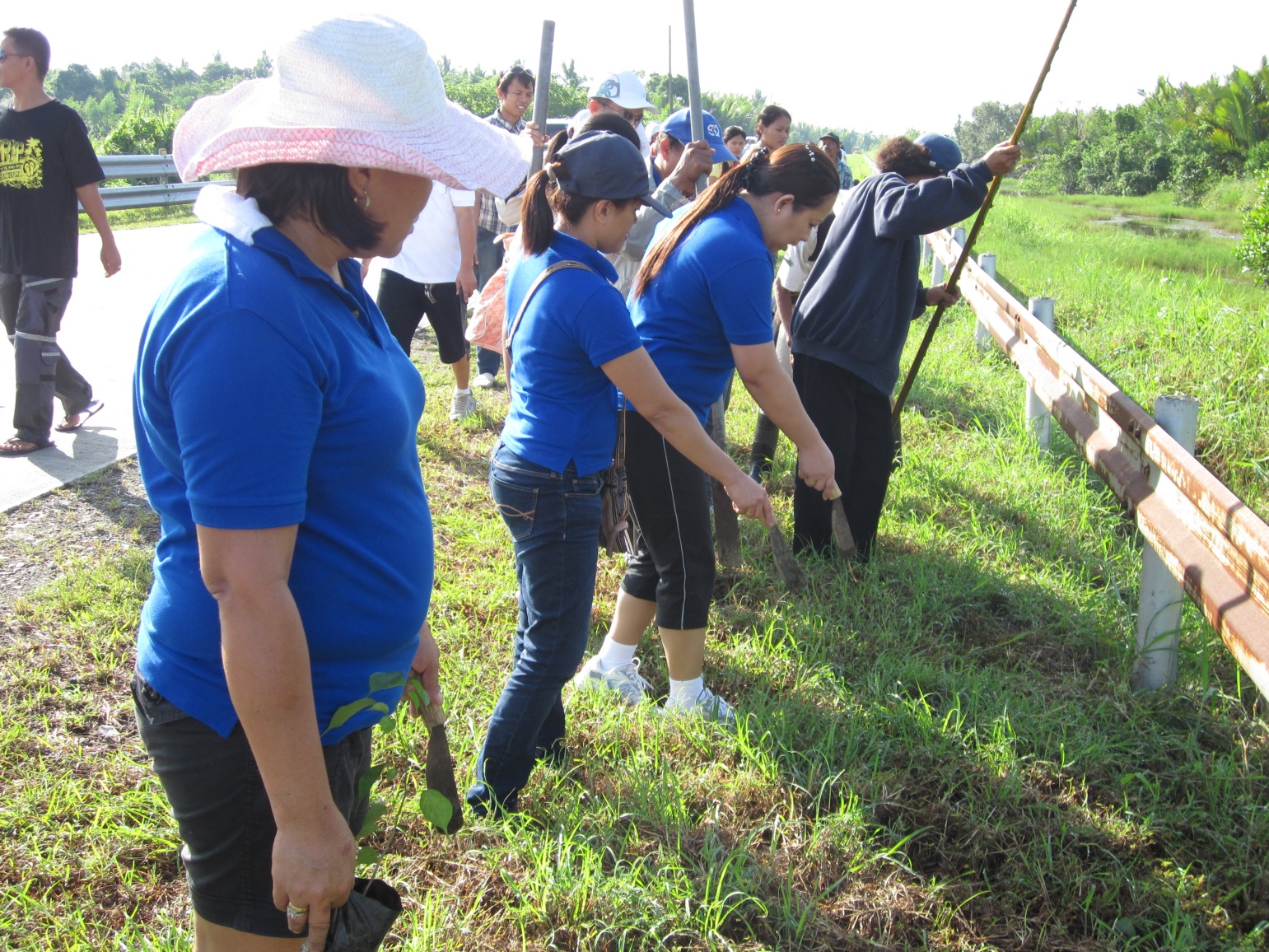 2013 OPLAN Broadcastreeing participants bringing bolos and their seedings lining up at the street-side awaiting personnel from Barangay Masao bringing the yardstick
to mark the appropriate distance between seedlings. Photo by DMOPatrimonio
Details

Published: 11 September 2013