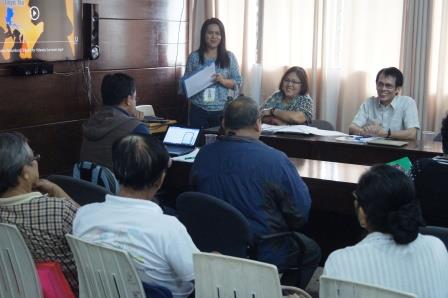 The Caraga implementation of the Grassroots Participatory Budgeting (formerly known as Bottom-Up Budgeting) is in full swing after 30 members of the Regional Poverty Reduction Action Team (RPRAT) of Caraga Region coming from 13 agencies of the government met last January 24, 2013 at the DILG Caraga Regional Office, Libertad, Butuan City, setting their eyes on the Local Poverty Reduction Action Plan (LPRAP) provincial validation for Fiscal year 2015 spread out in the months of January and February this year, 2014.

What was once referred to as the Bottom-Up Budgeting (BUB) is now called Grassroots Participatory Budgeting (GPB) through the Joint Memorandum Circular Number 4 (JMC No.4) issued by the Department of Budget and Management (DBM), the Department of the Interior and Local Government (DILG), Department of Social Welfare and Development (DSWD) and the National Anti-Poverty Commission (NAPC), to emphasize the role and significance of the local communities in uplifting their situation towards inclusive growth and development.

Among the provisos of the JMC No. 4 is the composition and functions of the RPRAT which includes the conduct of validation of project proposals. These proposals are to be consolidated and submitted to NAPC by March 2014.

The provincial validation was the main agendum for the January 24 RPRAT meeting. It's objectives are: to validate the project proposals for GPB 2015; to orient the LPRAT and all personnel involved in the GPB at the provincial level about the State of Good Local Governance (SGLG)—the evolved form of the Seal of Good Housekeeping—and the new Local Governance Performance Management System (LGPMS); to assess the status of GPB implementation in 2013; and to conduct preliminary discussions to start the implementation of GPB projects for 2014.

The schedules for the validation are: January 29 for Butuan City; January 30 for Surigao del Sur; February 7 for Agusan del Sur; February 10 for Agusan del Norte; February 11 for Surigao del Norte; and February 12 for the Province of Dinagat Islands.

With this, the RPRAT-13 members, spearheaded by the DILG Regional Director Lilibeth A. Famacion as RPRAT Chairperson, come to full-swing implementation of GPB activities for this year.
Details

Published: 28 January 2014