In response to the overwhelming aftermath of Tropical Depression Agaton in Butuan City in which 83 of its 86 barangays are affected, the Department of the Interior and Local Government Caraga Region (DILG 13), together with DILG Butuan City, mobilized, repacked and distributed 263 packs of relief goods in the form of food packs and used clothing to Barangay Bobon, a church-turned-evacuation center in Barangay Doongan, and to some affected DILG personnel last January 24, 2014.

Butuan City Mayor Ferdinand M. Amante, Jr. expressed the need for support from the various sectors in Butuan to supplement the City Government's relief assistance to a staggering 20,000 families in need.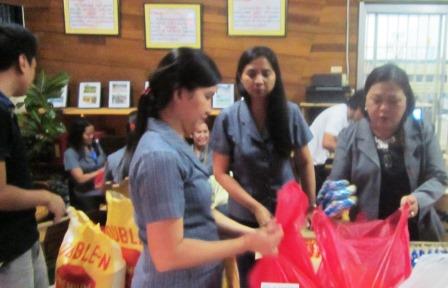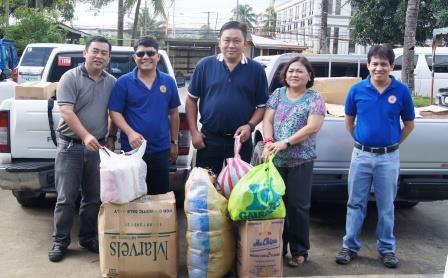 The DILG 13 is among those who responded and have allocated funds and even collected among themselves financial and in-kind donations last January 22, 2014. All of those collected were repacked and distributed to a barangay identified by the city government, in coordination with the DILG Butuan.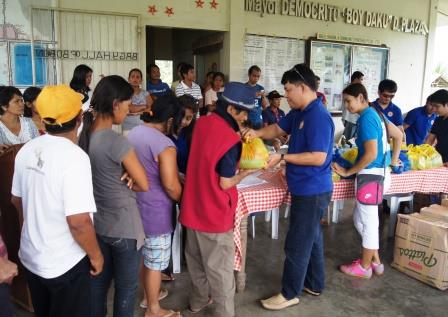 On January 24, 2014, DILG personnel from the regional office and Butuan City office, headed by Assistant Regional Director Donald A. Seronay, accompanied by City Director Romeo A. Solis, distributed 210 food packs and used clothing to Barangay Bobon, Butuan City. The food packs contained 3 kilos of Rice, canned goods and noodles. The distribution was done in coordination with the City Disaster Risk Reduction and Management (CDRRM) Officer Gracia O. Burdeos-Espere and accommodated by Bobon Punong Barangay Leonila G. Loayon and her Sangguniang Barangay.

Some 20 food packs were also distributed to residents of Barangay Baan Riverside who found shelter in Butuan City Alliance Chuch, Doongan Butuan City and the remainder for some DILG personnel who were also affected by the calamity.

The DILG 13 acts as Vice Chair for Preparedness to the Regional Disaster Risk Reduction and Management Council (RDRRMC) by virtue of Republic Act 101-21, or the Philippine DRRM Act of 2010. As such, despite government offices being called-off along with schools in different levels during calamities, the DILG have a team of personnel who manage to brave the inclement weather conditions to report to the office to disseminate important weather advisories to Local Chief Executives; to monitor the effects of the calamity in region by collecting and consolidating reports from field personnel on situations and responses of their respective Local Government Units; and reporting to the DILG central office and other DRRM agencies.

As such, from the onset of the weather disturbance on January 17 up to the remaining effects on January 21, DILG personnel from the regional office down to the field offices have personnel on duty monitoring and coordinating disaster-related activities.

But this time around, the DILG did not settle for just monitoring and really took the initiative to go beyond it in order to help those who are in need.
Details

Published: 28 January 2014