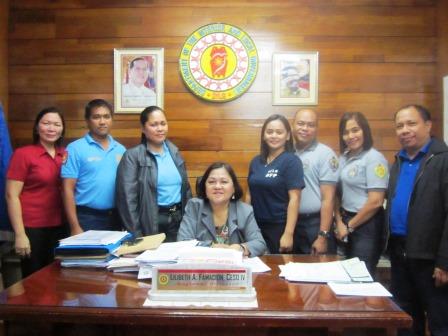 As is tradition, personnel of the Caraga Patrol met with Department of Interior and Local Government – Caraga Region (DILG 13) Regional Director Lilibeth A. Famacion last January 22, 2014 at the DILG Caraga Regional Office in Libertad, Butuan City to report operations of the prior year, 2013, and to set directions for 2014.
The annual meeting cum courtesy call has been called New Year's Call and forms part of a long and on-going tradition with uniform personnel.
During this particular New Year's call, officers of Patrol 117 presented the capsulized report of the 2013 operations of the centrally-managed and secured telephone central monitoring station of the emergency hotline 117 in the region.
As reported, 84.43% of the 11,779 incoming calls for the year have been answered, the remaining 15.57% are dropped or abandoned calls. The 84.43% can be broken down into 3.38% life-threatening calls, 54.82% non-life threatening, and 26.23% are illegitimate or prank calls. All of the 6,855 legitimate calls have been responded accordingly. (Click this link for related statistics)
To improve operations in the year 2014, their New Year's call also brought out recommendations for strengthening 117 through a four-pronged approach.
The first approach is to strengthen the internal operations of the 117. This can be achieved through the setting-up of a database of respondents across the region.
The second approach is to strengthen 117 in the DILG. This can be done by convening the Regional Monitoring Coordinating Committee (RMCC) which is comprised of Regional Directors of the DILG group of agencies, namely: Local Government Sector, Philippine National Police, Bureau of Jail Management and Penology, Bureau of Fire Protection, National Police Commission, and the Philippine Public Safety College, for the purpose of re-introducing and re-establishing the 117 as a significant function in their respective agencies.
The third approach is to strengthen 117 in the Local Government Units. This can be made possible through improved linkages with the LGUs, linking with their responders, activation of tanods, and incorporating 117 in the different Provincial and City Peace and Order Councils (PPOCs and CPOCs).
The fourth approach is to strengthen 117 by fostering partnerships with the private sector. Patrol 117 can be introduced to hospitals. Further arrangements can also be made with telecommunication entities to improve 117 operations.
With these, the DILG and Patrol 117 gears towards a fully-functioning emergency response network across Caraga Region contributing to the safety of people's lives and property.
117 is the national and official emergency hotline number of the Philippines institutionalized through Executive Order No. 226 dated July 14, 2003.
Details

Published: 28 January 2014