By : LGOO II Don Manuelo O. Patrimonio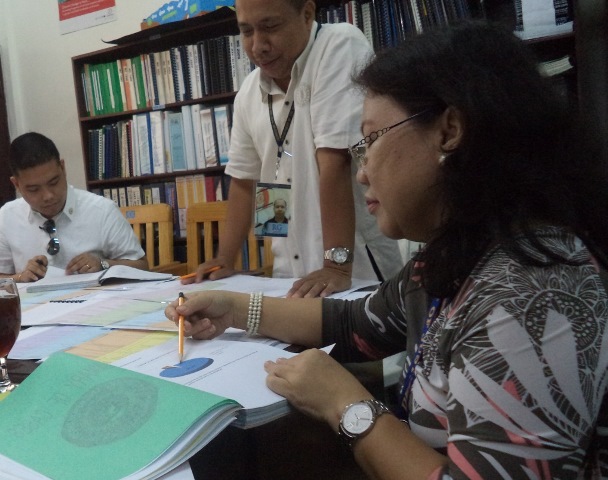 Butuan City—After thorough deliberation of the Lupong Tagapamayapa Incentives Awards (LTIA) Regional Awards Committee headed by the Department of the Interior and Local Government (DILG) Regional Director Lilibeth A. Famacion as Chairperson, the LTIA Regional Finalists for C.Y. 2015 are finally revealed. This after having assessed last March 30, 2015 the different provincial winners who in turn were the regional level qualifiers.
For the Highly Urbanized Cities Category, Brgy. Tiniwisan of Butuan City although by default is the sole entry, was still assessed by the RAC and deemed fit for the national search. Brgy. Tiniwisan is a new entry for Butuan City after Brgy. San Vicente consistently landed among the top 3 finalists at the national search for three consecutive years and is currently vying for national champion title for the assessment last year to land it the Hall-of-Famer status in the category.

For Component Cities Category, Brgy. Mabini of Cabadbaran City, Agusan del Norte bested the other provincial winners, namely: Brgy. Taff, Surigao City, Surigao del Norte; and Brgy. Telaje, Tandag City, Surigao del Sur.

For 1st – 3rd Class Municipalities Category, Brgy. Alegria of San Francisco, Agusan del Sur won over Brgy. Macalang of Buenavista, Agusan del Norte; Brgy. Cabungaan of Cagdinanao, Dinagat Islands; Brgy. Urbiztondo of Claver, Surigao del Norte; and Brgy. Poblacion of Barobo, Surigao del Sur.

And for 4th – 6th Class Municipalities Category, Brgy. Tagmamarkay of Tubay, Agusan del Norte trumped Brgy. Sta. Cruz of San Jose, Dinagat Islands; Brgy. Poblacion, Bacuag, Surigao del Norte; and Brgy. La Purisima, Cagwait, Surigao del Sur.

These regional winners also serve as qualifiers/finalists to the national search where they will compete against other regions for the top three spots per category. The National Winners will be awarded in December this year at the Malacañang Palace.

The LTIA Regional Assessment was held at DILG Regional Office – Local Governance Regional Resource Center (LGRRC) with the presence of the Regional Awards Committee (RAC): DILG RD Famacion; Atty. Marigel D. Hugo, LTIA RAC Vice Chairperson and OIC-Regional State Prosecutor of the Department of Justice XIII; and RAC Members Atty. Cisco Franz S. Maclang , of the Branch 1, Regional Trial Court, 10th Judicial Region; PCI Amadeo A. Meude, Jr. of the Philippine National Police XIII; Exec. Dir. Arnold L. Tapere of Propegemus Foundation, Inc. and Dir. Mary May R. Cadosales-Diaz of the Educational Discipline in Culture and Area-Based Development Services, Inc. (EDCADS).

Three major criteria, to wit (1) efficiency in operations, (2) effectiveness in securing Katarungang Pambarangay (KP) objectives, and (3) creativity and resourcefulness of the Lupong Tagapamayapa were followed in the assessment.

The Lupong Tagapamayapa Incentives Awards (LTIA) was established since 1997 as a means to institutionalize a system of granting economic benefits and other incentives to the Lupong Tagapamayapa that demonstrates exemplary performance in settling disputes at the grassroots level. These Lupons, comprising of the Punong Barangay as chair and 10-20 members, are based on the mandate of the barangays to enforce peace and order and provide support for the effective enforcement of human rights and justice as stipulated in Republic Act 7160, otherwise known as the 1991 Local Government Code. Decentralization has facilitated the recognition of the Katarungang Pambarangay or Barangay Justice System as an alternative venue for the resolution of disputes.
Details

Published: 30 April 2015