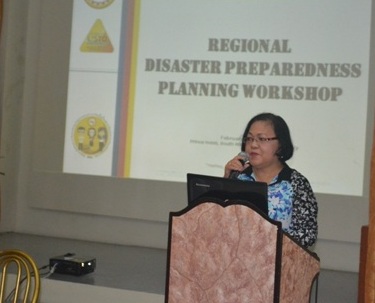 The Department of the Interior and Local Government (DILG) Region 13 (Caraga) initiates the conduct of Regional Disaster Preparedness Planning on February 10, 2017 at Prince Hotel, South Montilla Blvd., Butuan City. 
       Regional Director Lilibeth A. Famacion, CESO III stressed the need to take action by crafting the RDPP based on the premise that "preparedness saves lives and avert the loss / damage to assets".
      Partners and region-wide stakeholders were gathered to discuss and craft a Regional Disaster Preparedness Plan (RDPP) that localizes the strategies laid down in the National Disaster Preparedness Plan (NDPP) magnifying the importance of the seven (7) components, which are (1) Information, Education and Communication; (2) Partnerships; (3) Capacity Building; (4) DRRM Localization; (5) Risk Assessment and Plans; (6) Continuity of Essential Services; and (7) Preparedness for Emergency And Disaster Response.
      Presentation on the inter-operability of the government agencies responsible for the four (4) thematic areas, the Department of the Interior and Local Governent (DILG) for Disaster Preparedness, Department of Science and Technology (DOST) for Disaster Prevention and Mitigation, Department of Social Welfare and Development (DSWD) for Disaster Response and National Economic and Development Authority (NEDA) for Disaster Recovery and Rehabilitation, with the involvement of local government units, civil society organizations, inter-faith based groups, local resource institutes and other development partners was made during the activity.
         As part of planning, the participants reviewed the existing Disaster Risk Reduction and Management Plan (DRRMP) primarily focusing on preparedness. The workshops were also made as an avenue in the identification of issues and concerns, areas for improvement and gaps in the implementation of Operation L!STO. 
          The DILG, as the Vice Chair for Disaster Preparedness, has always been initiating in the identification of sets of relevant interventions for disaster preparedness that aim to create an enabling environment for LGUs to further develop their capacities towards mitigating the adverse impacts of disasters and climate change. These initiatives are offered in the form of skills development, technical support, policies and training. (Florian Faith Jr. P. Bayawa)
Details

Published: 27 February 2017