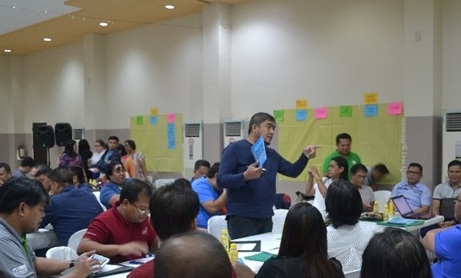 To ensure that resiliency is achieved, the Department of the Interior and Local Government (DILG) Region 13 (Caraga) is on full swing in the conduct of disaster preparedness region wide through a series of Provincial Preparedness and Partnership Dialogues.
The Provincial Preparedness and Partnership Dialogues conducted per province have engaged the participation of Local Chief Executives (LCEs) of Local Government Units (LGUs), Chiefs of Police (COPs) of Philippine National Police (PNP), Fire Marshalls (FMs) of the Bureau of Fire Protection (BFP), DILG Provincial Directors, DILG Provincial Focal Person on Disaster, DILG Local Government Operations Officers (LGOOs), Local Disaster Risk Reduction and Management Officers (LDRRMOs), Provincial/City/Municipal Planning and Development Officers (P/C/MPDOs), Civil Society Organizations (CSOs) and Local Resource Institutes (LRIs) to ensure the inter-operability of various actors in disaster preparedness.
The dialogues stressed the avoidance or reduction of the loss of lives and assets when various hazards strike. Thus, it reminded LGUs to check whether it has already complied with the Disaster Preparedness Minimum Standards set by DILG to LGUs under the Operation L!STO Program, which were also part of the assessment indicators of the Seal of Good Local Governance (SGLG).
Workshops were done to craft a localized planning mechanism on the crafting and implementation of a Provincial Disaster Preparedness Plan per province by looking at the seven (7) components, which are (1) Information, Education and Communication; (2) Partnerships; (3) Capacity Building; (4) DRRM Localization; (5) Risk Assessment and Plans; (6) Continuity of Essential Services; and (7) Preparedness for Emergency And Disaster Response.
The schedule of the conduct of dialogues were the following: (1) Province of Agusan del Sur – February 21, 2017; (2) Province of Agusan del Norte – February 22, 2017; (3) Province of Surigao del Sur – February 24, 2017; (4) Province of Surigao del Norte – February 28 and (5) Province of Dinagat Islands – March 3, 2017.
As Vice Chair for Disaster Preparedness, the DILG continues to capacitate LGUs for disaster resiliency on the premise that disaster preparedness saves lives and assets of each one in the community. (Florian Faith Jr. P. Bayawa, DILG 13)
Details

Published: 10 March 2017