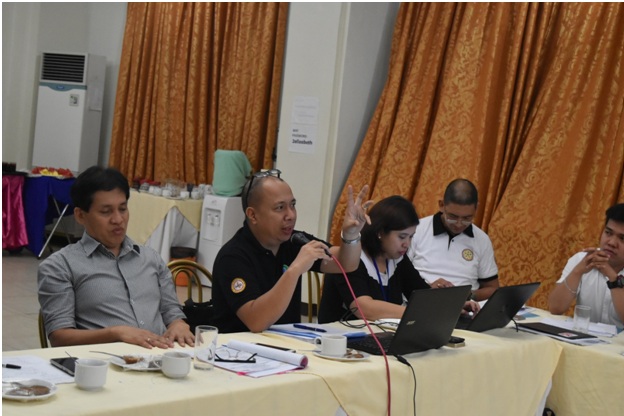 The Disaster Preparedness (DP) Committee of the Regional Risk Reduction and Management Council (RDRRMC) – Region 13 (Caraga) chaired by the Department of the Interior and Local Government (DILG) placed emphasis on the preparedness measures of Local Government Units (LGUs) to be always "Listo at Alerto" for any natural or man-made disasters during the 2ndQuarter Disaster Preparedness Committee Meeting on June 23, 2017 at Prince Hotel, South Montilla Blvd., Butuan City.
Mr. Donald A. Seronay, the OIC-Assistant Regional Director of DILG representing the Vice Chair for Disaster Preparedness - Regional Director Lilibeth A. Famacion, CESO III presided the committee meeting. He stressed that it is better to be prepared than being caught unaware and become one of the casualties in the event of disaster. The reason we are investing so much on preparedness because we are not capable to respond given our meager resources.
During the meeting, "Operation LISTO" was discussed, a program launched by DILG,which is a national advocacy program on disaster preparedness that guides LGUs and DILG personnel on actions needed to be undertaken before, during and after a typhoon.Part of the program is to strengthen the capacity and level of preparedness of the LGUs through the formation of L!STO Teams both from the interior and local governments. The discussions focused on the implementation of ListongPamayanan, which is centered on the conduct of community drills and the ListongPamilyang Pilipino with the support of the Philippine Public Safety College (PPSC), which is centered on the distribution of Gabay at Mapa (family-based preparation for disaster) and the conduct of Family Development Sessions to 4Ps families.
Mr. Ray Gregory F. Jaranilla also presented the draft of the Regional Disaster Preparedness Plan (RDPP) of the Caraga, which serves as the roadmap of the region in disaster preparedness actions.
The meeting was attended by the Provincial and City Disaster Risk Reduction and Management Officers (P/CDRRMOs), Local Resource Institutes (LRIs), Civil Society Organizations (CSOs) and DP member agencies. Part of the meeting was the E-Budget System for LGUs by the Department of Budget and Management (DBM) for the convenience of LGUs in tagging their Annual Investment Program (AIP) for Climate Change Expenditure, Status of LGU compliance on Climate and Disaster Risk Assessment (CDRA), Climate Change Expenditure Tagging (CCET) and Local Climate Change Action Plan (LCCAP). The Office of Civil Defense also provided updates on the RDRRMC Operations Manual and the Caraga State University presented the Geo-SAFER Mindanao Project for the generation of high resolution flood hazard maps. The discussion also include the compliance of LGUs in the preparation of 2017 La Niña Action Plan / Oplan Tag-ulan.
As the Vice Chair for Disaster preparedness, the Department is pushing every LGU to comply with the minimum standards of disaster preparedness, observe the expedient utilization of the disaster funds, and follow strictly the Operation L!STO protocolspara maging L!STO at Alerto for any eventualities.(Florian Faith Jr. P. Bayawa, DILG 13)
Details

Published: 30 June 2017