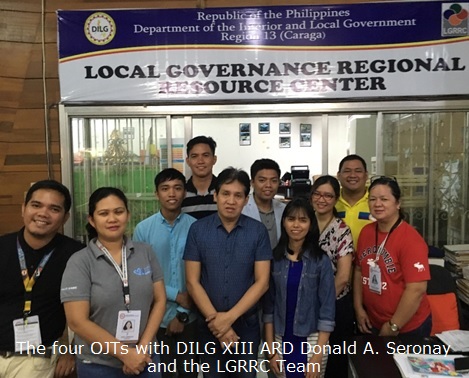 The Local Governance Regional Resource Center (LGRRC) XIII served as an avenue for the sharing of learnings of the five beneficiaries  of the 2018 Department of the Interior and Local Government (DILG) Caraga On-the-Job-Trainees (OJT) Program. The oral presentation of learnings was conducted at the DILG – LGRCC XIII facility in the afternoon of August 24, 2018. 
Three graduating Civil Engineering students from Surigao State College of Technology (SSCT) in Surigao City and one senior Political Science student from St. Paul University Systems (SPUS), also in Surigao City presented on their actual work accomplishments, school subjects applied in work setting, and learnings/reflections on the significance of local governance and public service from their two-month training with the Department. The panel, composed of DILG XIII Assistant Regional Director Donald A. Seronay, Local Government Capability Development Division (LGCDD) Chief Annabel Yangson, and Regional Project Development Management Unit (RPDMU) Team Leader Engr. Jojo A. Serenado listened intently as the four OJTs took turns presenting and later interpolated with the students.
SSCT student Ian Rey D. Arreza who was assigned at the DILG Agusan del Sur Province enthused that his internship opened his eyes to the difficulties and challenges of engineering field work as he assisted in project inspection and monitoring activities.   For her part, Cazyljean P. Casiño, also of SSCT and assigned at the DILG Province of Dinagat Islands, shared her realization on the vital role of strict monitoring on project implementation for sustainability and impact to the communities.  All four OJTs expressed their appreciation for the opportunity to perform tasks and duties relevant to their respective courses.  Moreover, they were very grateful for the honorarium they received (P10,000.00/month/OJT).
ARD Donald A. Seronay responded that the DILG Caraga OJT Program under the Locally Funded Projects (LFPs), which is now on its second year of implementation, aims to enrich the internship of students by exposure to actual field work and introduction to local governance. He added that with the reciprocal benefits to the partner Local Research Institutes (LRIs) and the Department, DILG XIII will endeavor to continue implementation of the program which is open to financially challenged but deserving students. 
by LGOO V Emmylou P. Burias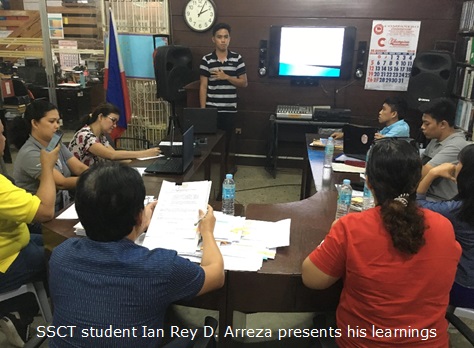 Details

Published: 31 August 2018