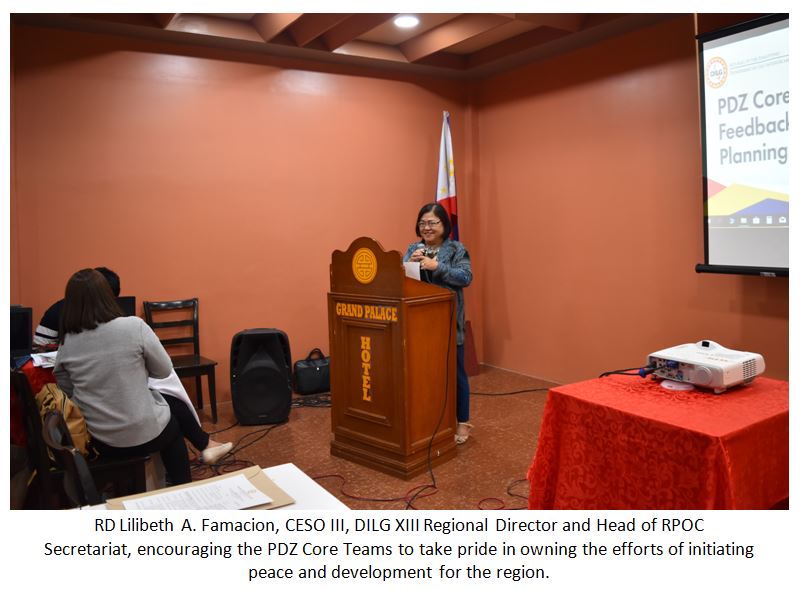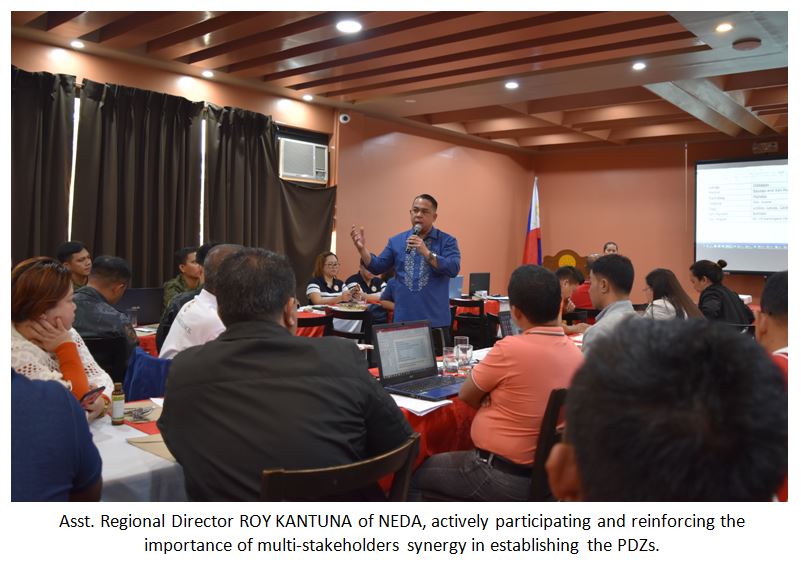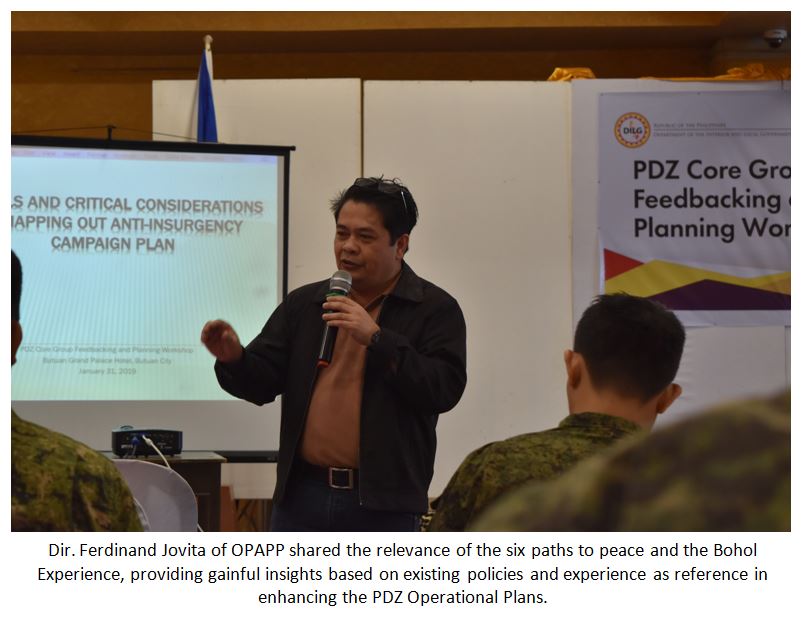 The two-days PDZ Core Group Feedbacking and Planning Workshop held in Butuan Grand Palace Hotel, Butuan City was just concluded on January 31, 2019. It was attended by select members, representatives and partners of the Regional Peace and Order Councils such as 401st and 402nd Brigades of the Philippine Army, PNP, NCIP, DENR, CCPD, and Mediatrix; DILG Officers as regional and local POC Secretariats, specifically those assigned in LGUs with identified PDZ areas; and, NEDA as RDC Secretariat
Said activity was conducted to gather feedbacks on the challenges of establishing the PDZs as well as provide inputs that would enhance understanding about PDZ as a strategy to reach the goals articulated in the Caraga Roadmap for Peace (CRmP). Important topics focused on the peacebuilding mechanisms, the six paths to peace prescribed by EO 125, and the Bohol experience towards peace and development were adequately discussed by Resource Speakers from GIZ and OPAPP. Director Charissa Guerta of DILG-Butuan spearheaded the workshops, wherein participants were able to come up with an enhanced Provincial PDZ Operational Plan, which will be presented to the respective Peace and Order Councils for adoption.
The Operational Plans sets out the task and workflow of the entire operations from the initiation phase to the declaration of PDZs as well as in the maintaining and sustaining phases. It defines the roles and functions of key stakeholders and the needed resources needed to undertake strategies and activities towards establishing the PDZs, particularly geared towards engaging the target communities to take part on peace promoting processes and participatory planning process in the hope of achieving durable peace and sustainable development. Planned strategies and activities for the initiation phase are expected to be carried out this year.
RD Lilibeth Famacion, as DILG Regional Director and Head of the RPOC Secretariat, is enjoining the participants to take pride in owning the efforts that was started, to pursue the goals of the Caraga Roadmap for Peace by doing each one's part to turn conflict affected areas into a haven of durable peace and sustainable development, and strengthen the POCs in the region to contribute in making Caraga Region a peaceful, safe and productive place to do business and live.
Details

Published: 05 February 2019