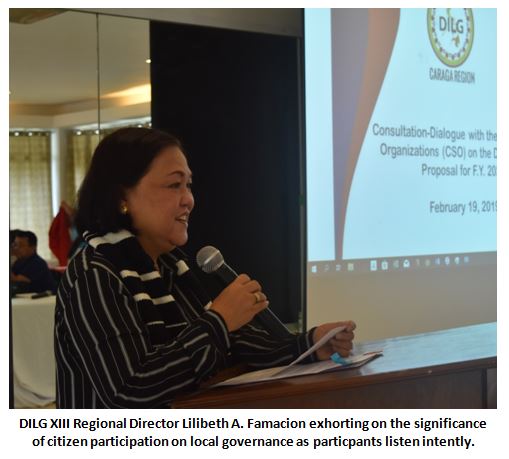 In preparation for the deliberation of the proposed 2020 DILG XIII Budget, a consultation-dialogue with civil society organizations (CSOs) was conducted last February 19, 2019at Almont Inland Hotel, Butuan City.
The activity was held in consonance with DBM National Budget Circular No. 536 dated January 31, 2012 entitled "Guidelines on Partnership with Civil Society Organizations and Other Stakeholders in the Preparation of Agency Budget Proposals" which aims to institutionalize participatory budgeting in the bureaucracy.
During the consultation-dialogue, DILG XIII Regional Director Lilibeth A. Famacion emphasized the importance of citizen participation highlighting that it is a democratic process involving people empowerment where concerned citizens such as the CSO representatives present, organize themselves to monitor the effectiveness of plans, actions, and programs of government agencies to become partners in the improvement of the national budget.
To exercise the different Department of Budget (DBM) and CSO Principles of Engagement like transparency, partnership, and consultation & mutual empowerment among others, DILG XIII Planning Officer Ellen Mandap presented the 2020 Agency Budget Proposal while Budget Officer PrimadonnaLincuna presented the Comparative Budget from 2017 – 2020. Based on the presentations, the CSO representatives present gave their comments and observations. These will form part of the proposed budget presentation to the Regional Development Council (RDC) Caraga.
Present during the Dialogue were representatives from PROPEGEMUS Foundation, EDCADS Inc., Reach Foundation, Inc., Action Against Hunger (AAH), REESFI Education Center,Surigao City Federation of Tricycle Drivers and Operators Inc. (SCFTDOI), Surigao Sur Organization for Human Development, Inc. (SSOFHDev)
by LGOO V Emmylou P. Burias
Details

Published: 26 February 2019