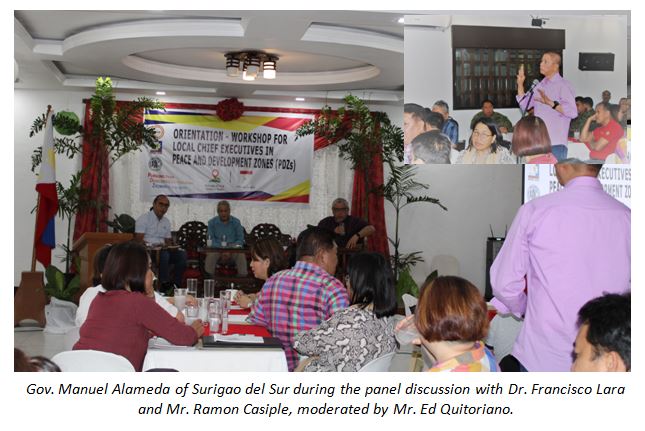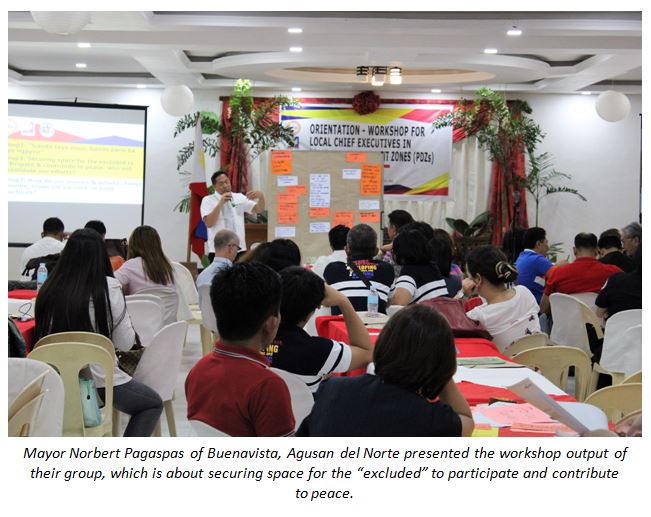 More than a year after the Joint Resolution to support and adopt the establishment of Peace and Development Zones (PDZs) in Caraga Region as a strategic approach to attaining the objectives of CRMP was forged by the Regional Peace and Order Council (RPOC) and the Executive Committee of the Regional Development Council (RDC), DILG finally pulled the attention of Local Chief Executives (LCEs) in the identified PDZs.
In a one-day Orientation Workshop for LCEs held on February 20, 2019 in Golden Tiara Hall, Balanghai Hotel and Convention Center, Butuan City, 1 Provincial Governor and 18 Municipal Mayors personally attended and participated.
The activity acquainted the participating LCEs on what Peace and Development Zones is all about, the peace-building measures and processes as well as the Do-no-Harm Approach that will be employed.
Two (2) known personalities who are actively engaged on peace efforts were invited to share their knowledge on peace and development. Dr. Francisco Lara, Jr., Senior Peace and Conflict Adviser of Asia International Alert, talked on the government peace efforts and policies starting with FVR's Six (6) Paths to Peace, the Jeep ni Erap Program of President Estrada, the Anti-Poverty and MDG Commitments of President Arroyo, the Interim Peace Agreement of President Aquino to the Six Point Peace Agenda of President Rodrigo Roa-Duterte. Mr. Ramon Casiple, Political Analyst, also discussed the possible implication of BOL and BARMM to Caraga Region.
The inputs from the mentioned personalities provided gainful insights that helped participants acquire knowledge of national government's peace efforts.
DILG City Director, Cha Guerta, asked about the LCEs' readiness and commitment to the implementation of PDZ initiatives…and if the "Yes!" response can be taken as the LCEs' commitment of support, then we can only conclude the overall success of the activity.
By: Marilou Autor-Salado, LGOO V
Details

Published: 28 February 2019