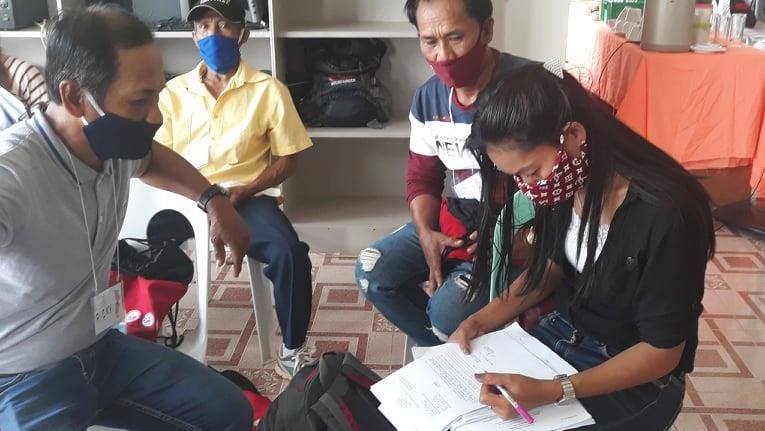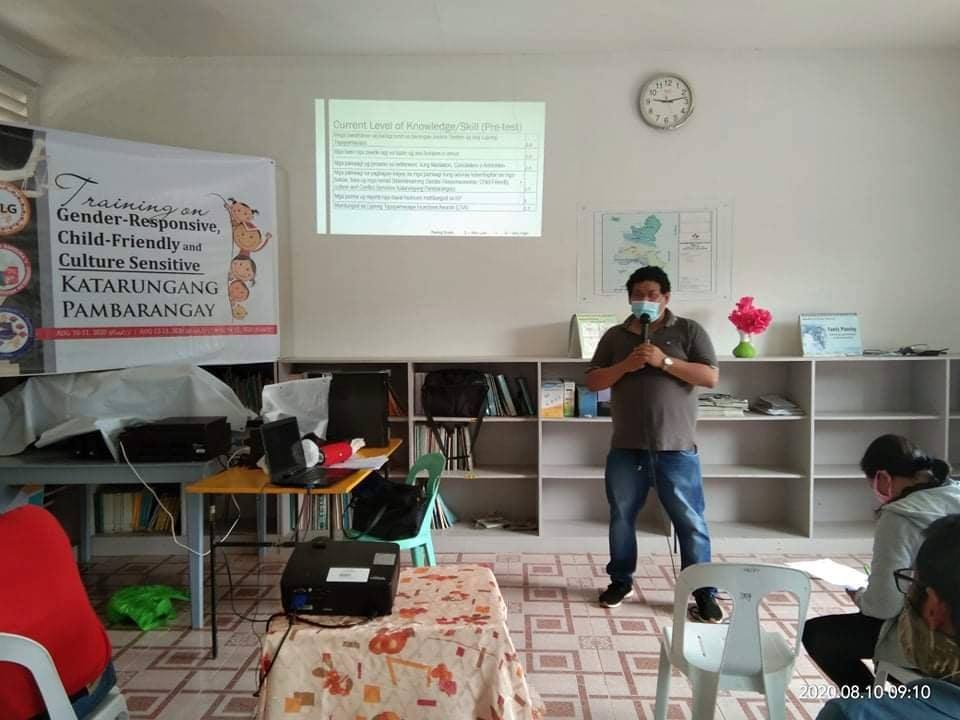 The participants diligently working during the learning exercises.                          Basilisa MLGOO Don Manuelo O. Patrimonio launches the KP
                                                                                                                                                                          Procedures Calendar Generator Tool
DILG Basilisa spearheaded the conduct of the Training on Gender-Responsive, Child-Friendly and Culture Sensitive Katarungang Pambarangay for 27 barangays of Basilisa, Dinagat Islands in 3 batches held in Libjo, Dinagat Islands last August 10-11, 12-13 and 14-15, 2020, respectively.
In attendance were Punong Barangays who serve as Lupon Tagapamayapa chairpersons and conduct mediation sessions; Barangay Secretaries who serve concurrently as Secretaries of the Lupons; and Lupon members who will form the Pangkat ng Tagapagkasundo for conciliation proceedings.
The main trainer was LGOO VI Lydia S. Bajan, DILG Province of Dinagat Islands Program Manager and concurrently MLGOO if San Jose town. Her extensive experience as DILG field Officer of 34 years and Masters Degree in Peace and Conflict Studies from University of Sydney New South Whales in Australia made her a top-caliber resource person for the training.
The activity re-oriented participants in the Katarungang Pambarangay processes of mediation, conciliation and arbitration to resolve disputes at the community-level and decongest the courts through speedy, inexpensive and accessible processes through the Lupong Tagapayamapas of each barangay.
During the activity, the DILG-Basilisa launched the KP Procedures Calendar Generator Tool to assist the Lupons in plotting schedules for the different KP procedures pursuant to the KP Law in PD 1508 as amended by RA 7160 or the Local Government Code.
"It was noticed that barangays had a difficult time remembering and adhering to the timelines of the KP procedures like up to when to issue summons, schedule first hearings, deadlines for mediation or conciliation procedures, formation of Pangkat ng Tagapagkasundo up to submission of reports to the courts and up to execution or the enforcement of agreements in the amicable settlement or abitration award. The tool was developed to help them plot schedules that fall within the timelines prescribed by law," said Basilisa MLGOO Don Manuelo Patrimonio who developed the tool.
The tool is a simple Microsoft Excel pre-coded spreadsheet that plots the calendar based on prescribed timeline. The program will guide the user to choose dates in adherance to and will not allow schedules that are not compliant to the prescribed timeline. It would even give legal bases for the prescribed dates.
The activity is part of the Peace and Order and Public Safety (POPS) Plan of the Municipality of Basilisa under the Municipal Peace and Oder Council (MPOC) led by Mayor Ozzy Reuben M. Ecleo. It was also supported by the Liga ng mga Barangay-Basilisa Chapter.
By MLGOO Don Manuelo O. Patrimonio
Details

Published: 18 August 2020