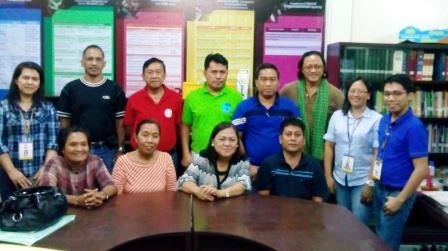 The Department of the Interior and Local Government Region 13 (DILG-13) has engaged four Community Mobilizers (CM) to assist Local Government Units, Civil Society Organizations (CSOs) and communities in the crafting of Local Poverty Reduction Plans (LPRAP) under the Grassroots Participatory Budgeting (GBP).  Started in 2012, the GPB has put premium on people participation in local budgeting process and local governance.
"Ako nalipay na ang mga katawhan,  aduna nay kahigayunan nga muapil ug makig lambigit sa pag suta sa mga proyektong pangkalambuan (Iiam happy that the poor are given opportunity to participated in identifying development projects),"  said Jose T. Orapa,  46 years old,  SALINTUBIG water project beneficiary in Barangay  Libertad, Prosperidad, Agusan del Sur.
These community mobilizers, from varied background, are seasoned community organizers and have been engaged to work with several local and international development organizations.  Mary Ann Ochavillo, former employee of Tago, Surigao el Sur is passionate about working in the community.  "The fulfillment is different when at the end of the day, you knew that your efforts has improved the plight of the poor," she said.   Roseller Espere, a community leader and a pastor likes to work in the community as a vocation and an opportunity to empower people.
"GPB is not a business-as-usual program" so we consider the character, values and attitudes in choosing community mobilizers," DILG-13 RD Lilibeth Famacion said.  "We wanted that their characters are unassailable, and they could aptly represent the values and attitude of a good public servant," she continued.
"Engaging these mobilizers further amplifies the voice of the poor and improves people participation.  It is important that, for the project to sustain, ownership is also lodged in the hands of the beneficiaries.   We will never stop implementing reforms in the fight against poverty.  We wanted to replicate more Joses and Marias, whose lives have been positively changed because of this program," RD Famacion emphasized.
The following are the Community Mobilizers engaged per province:
Agusan del Norte        -         Mr. Roseller Espere
Agusan del Sur –         -           Mr. Rex Linao
Surigao del Sur –         -           Ms. Mary Ann Ochavalle
Dinagat Islands –        -           Mr. Buenaventura Maata
As of this writing, DILG13 is currently recruiting two (2) Community Mobilizers for Surigao del Norte and one more for Surigao del Sur. Interested applicants may send applications to This email address is being protected from spambots. You need JavaScript enabled to view it. (LGOO II Bryan F. Edulzura)
Details

Published: 12 August 2014