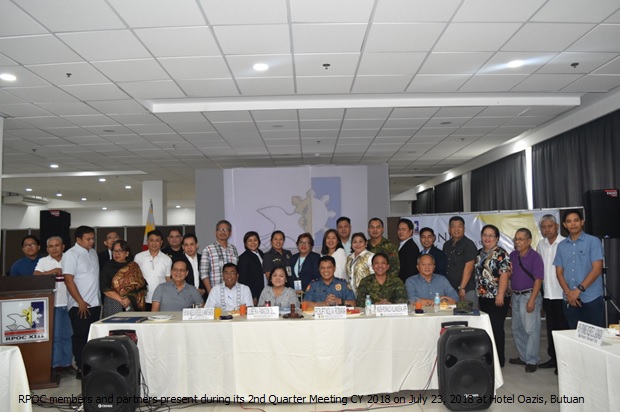 The Regional Peace and Order Council (RPOC) 13 has successfully concluded its 2nd Quarter Meeting for CY 2018 on July 23, 2018 at Hotel Oazis, Butuan City.
Presented during the meeting were reports on the current peace and security status of the region, presentation of new peace and order related programs and policies, updates on on-going peace initiatives and upcoming activities.
Highlighted during the meeting was the proposed expansion of Peace and Development Zone target areas as one of the council's bold steps in implementing the Caraga Roadmap for Peace. The establishment of Peace and Development Zones is a peace – building initiative/effort which will promote peace building process that will facilitate the establishment of durable peace and to prevent the recurrence of violence by addressing the root causes and effects of conflict through reconciliation, institution building, and political as well as economic transformation. To support this initiative, RPOC 13 thereby passed a resolution adopting the proposed expansion of PDZ target areas.
Also, now that September is fast approaching, the Office of the Presidential Adviser on Peace Process (OPAPP) Area Manager, Mr. Allan S. Almoite, once again encouraged all the regional line agencies as well as the Local Government Units (LGUs) to support the activities in celebration of the Peace Month in Caraga. Peace Consciousness Month Celebration has been a yearly activity in the region, however, it was during its 3rd Quarter Meeting for CY 2017 that the council passed a resolution institutionalizing the annual Peace Consciousness Month celebration to Caraga Roadmap for Peace of RPOC 13.
By: Archie Rose G. Vasquez, LGOO II 
Details

Published: 25 July 2018