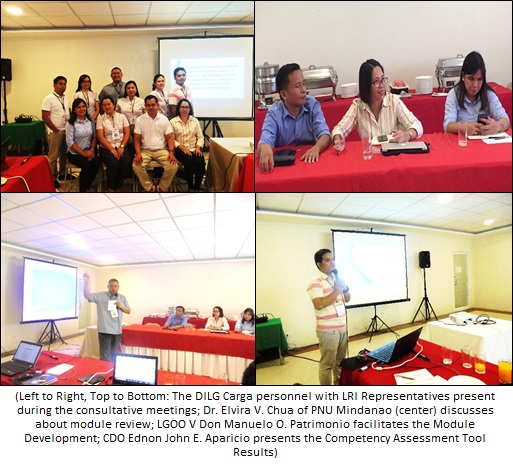 On August 28, 2018 the DILG Caraga conducted a consultative meeting with select Local Resource Institutes in Caraga for the crafting of Capacity Development (CapDev) Intervention for the Local Government Units in the region.
The CapDev Intervention being developed is the response of DILG Caraga to the pressing competency gaps and needs that majority of the LGUs in the region are facing in the planning and implementation of local development projects.
"One of the reasons behind the problems encountered by LGUs in the implementation of local development projects is the lack of technical knowledge of some LGU personnel… This pitfall stems from the fact that most LGUs have poor planning skills that needs to be addressed immediately as possible" expressed Engr. Jojo A. Serenado of the DILG Caraga Regional Project and Development Unit (RPDMU).
Responding in gusto, Dr. Elvira V. Chua of PNU Mindanao stated, "We are very willing in the module development of this CapDev that is responsive to the needs of the LGUs. Not just the development but also its delivery and implementation."
Based on the consultative meeting, the training implementation of Enhancing Local Government Unit Capacity on Planning & Implementation of Local Development Projects will commence on the last week of September 2018. It will be implemented by two LRI Project Managers who will implement the capacity development program in two clusters of local government units. 
 Cluster 1 composed of the municipalities in the provinces of Dinagat Islands and Surigao del Norte will be handled by the Siargao Islands Institute of Technology (SIIT). While Cluster 2 composed of the municipalities of the provinces of Agusan del Sur and Surigao del Sur will be handled by the Saint Paul University Surigao (SPUS).
The one-day consultative meeting was conducted in the RTR Hall, Almont Inland Resort and Hotel, Butuan City.
Details

Published: 31 August 2018