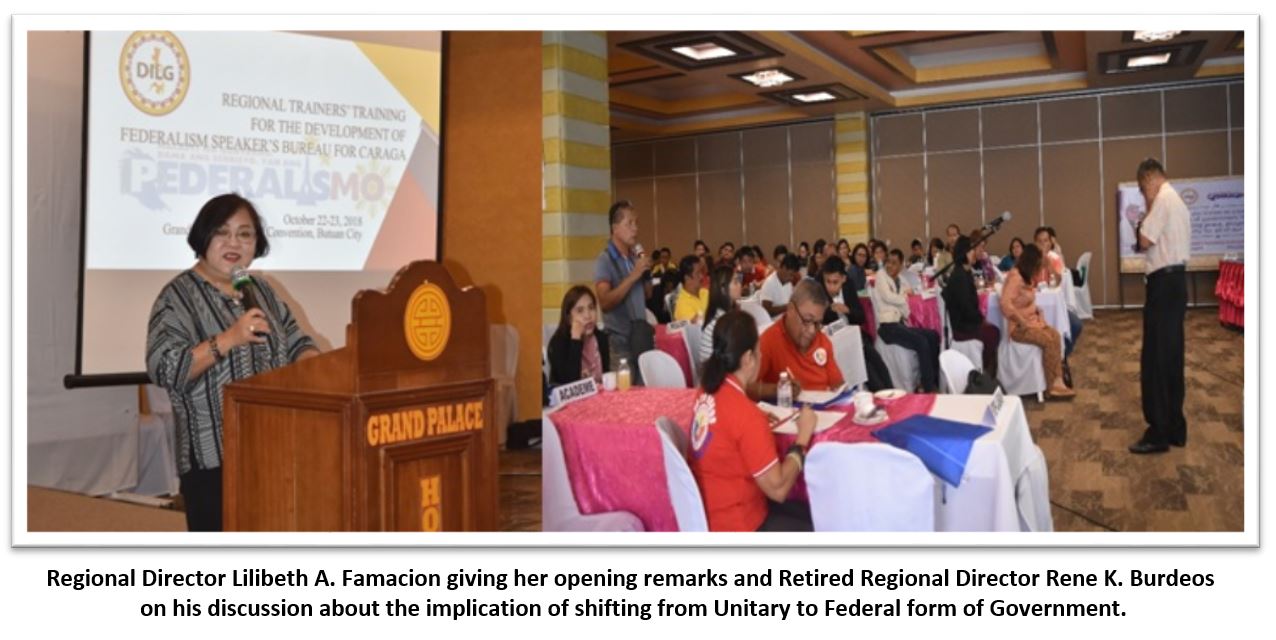 The President's drive to change the current system of government from Unitary to Federal form has been continuing its momentum through the conduct of a series of events with agencies concerned, including the Civil Society Organizations (CSO's) and the public. One in particular was the recently concluded Federalism Regional Roll-Out of Trainers Training on October 22-23, 2018, which was spearheaded by the Department of the Interior of Local Government (DILG), in collaboration with Local Government Academy (LGA). The activity was attended by the DILG Regional Office and Field personnel, CSO's, Local Resource Institutes, National Government Agencies and Invited Guests (advocates of Federalism). The aim of the event was to gather a certified and qualified pool of speakers to help disseminate information about federalism down to the grass roots level. 
To start the event, Regional Director Lilibeth A. Famacion, CESO III of the DILG gave her opening remarks. She encouraged the participants to study rigorously the essence of Federalism, and especially to the DILG personnel to set aside their personal convictions and do their duties as civil servants.
Highlights during the first day of the event focused on the discussions about federalism in different sessions with three different speakers. The first session was about understanding federalism its intricacies and nuances, as it was discussed by Atty. Marjorie Leah M. Llano. Then it was followed by Atty. Emildan M. Gastardo, who discussed the Evolving Autonomy and Federalism Initiative in the Philippines. Lastly, was the discussions on Federalism for a Better Philippines, which was presented by no less than Hon. Nilo P, Demerey, Jr.
In the Open Forum, the speakers were asked regarding the details of federalism. One question that caught the attention of the speakers was about the existence of the DILG once Federal Government takes place. There were mix reactions to this question but according to the speakers, the DILG will remain albeit with different functions, said ASEC. Jonathan E. Malaya of the DILG.
On the second day, a High Impact presentation was deliberated by Joseph G. Porgatorio. He demonstrated to the participants on how to effectively present and discuss topics to different types of audiences. Then it was followed by a guest speaker, retired DILG Regional Director Rene K. Burdeos, who discussed the implication of shifting from unitary to federal form of Government.
To culminate the event, LGMED Chief Ray Gregory F. Jaranilla, gave his closing remarks by giving thanks to the participants for their continued support of the federalism advocacy campaign lodged by our President. He reminds everyone to be steadfast in their campaign and to make the public understand the dire necessity of changing our current unitary system of government into a federal form.
By: BENFLOR J. BIONG/MICHAEL ANGELO B. TERO (FEDERALISM- PPO/RPO)
Details

Published: 05 November 2018