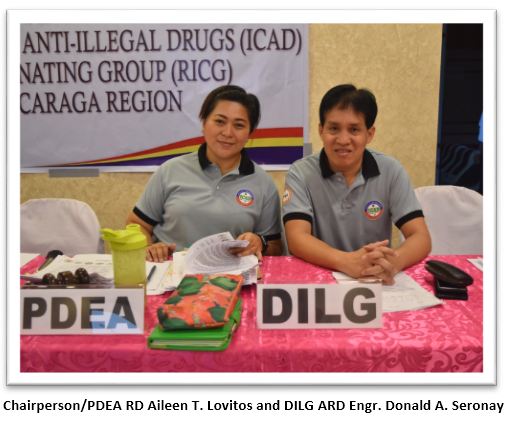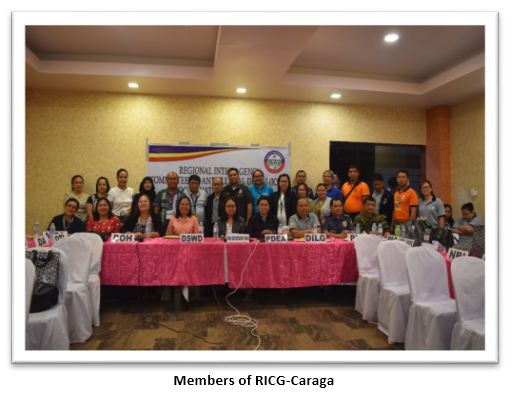 The second monthly meeting of the Regional Inter-Agency Committee on Anti-Illegal Drugs (ICAD) Coordinating Group (RICG) in the region was conducted last October 26, 2018 at Butuan Grand Palace Hotel, Butuan City.
The Department as the primary sponsor of the said activity is grateful of the support from the Regional Directors of the member- agencies as it showed 93% attendance and participation. 
PDEA Chair, Regional Director Aileen T. Lovitos, concreted the following agenda items during the meeting:
Finalization of the action plan for the remaining quarter of 2018 per cluster
Update on Barangay Drug Clearing Program
Other matters including DILG Memorandum Circular No. 2018-125 dated August 8, 2018 entitled GUIDELINES FOR THE IMPLEMENTATION OF COMMUNITY-BASED DRUG REHABILITATION PROGRAM
On the other hand, the Department as Advocacy Cluster Leader gave an update on its upcoming barangay advocacy activity.  The said symposium will engage a total of 202 barangays in the region as provincial roll out. The Department has already downloaded funding to its provincial offices to support the activity which will be conducted within November 19 to 23, 2018 in line with the Drug Abuse Prevention and Control Week.
Prepared by: Suzette T. Tinampay & Renelle L. Escuadro
                   ADAC Regional Technical Assistants
Details

Published: 06 November 2018