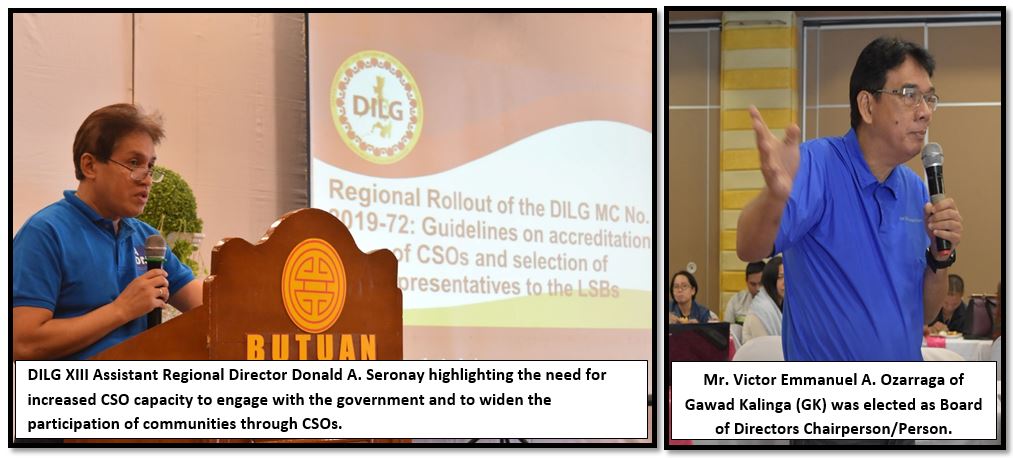 Pursuant to the issuance of DILG Memorandum Circular No. 2019-72 dated May 22, 2019 entitled "Guidelines on Accreditation of Civil Society Organizations (CSOs) and Selection of Representatives to the Local Special Bodies (LSBs)", a rollout activity was conducted last July 18-19, 2019 at the Grand Palace Hotel, Butuan City.
The activity was conducted to orient DILG field officers and Civil Society Organizations (CSOs) on the salient features of the M.C. particularly on the conduct of CSO Conference as part of the Accreditation Process and to effectively enforce the provisions thereof in their respective local government units and the area they are operating in, respectively. Further, it was held to convene the CSOs and reiterate the Guidelines on CSO Accreditation for Engagement of DILG PPAs.
A total of 31 active CSOs in Caraga as well the Program and Outcome Managers of DILG participated in the Regional Rollout and rose to the challenge of DILG Assistant Regional Director Donald A. Seronay that the DILG is hoping that at the end of the activity, the CSOs in the region will be organized to facilitate a more active engagement with the DILG. Thus, one of the highlights of the two-day activity was the election of officers of the Federated CSOs of Caraga with Mr. Victor Emmanuel A. Ozarraga of Gawad Kalinga (GK) elected as Board of Directors Chairperson/Person. Seven board members were elected with each province and Butuan City plus the Indigenous People (IP) sector represented.
DILG M.C. No. 2019-72 was issued in consonance with Article 64 of the IRR of the Local Government Code of 1991 which states that "within thirty (30) days from the approval of these Rules and thereafter, within thirty (30) days from the organization of the newly elected sanggunian, each sanggunian concerned shall call all community-based people's organizations or NGOs, including business and professional groups, and other similar aggrupation to apply with the LGU concerned for accreditation for membership in the local special bodies."
By: LGOO V Emmylou P. Burias
Details

Published: 26 July 2019