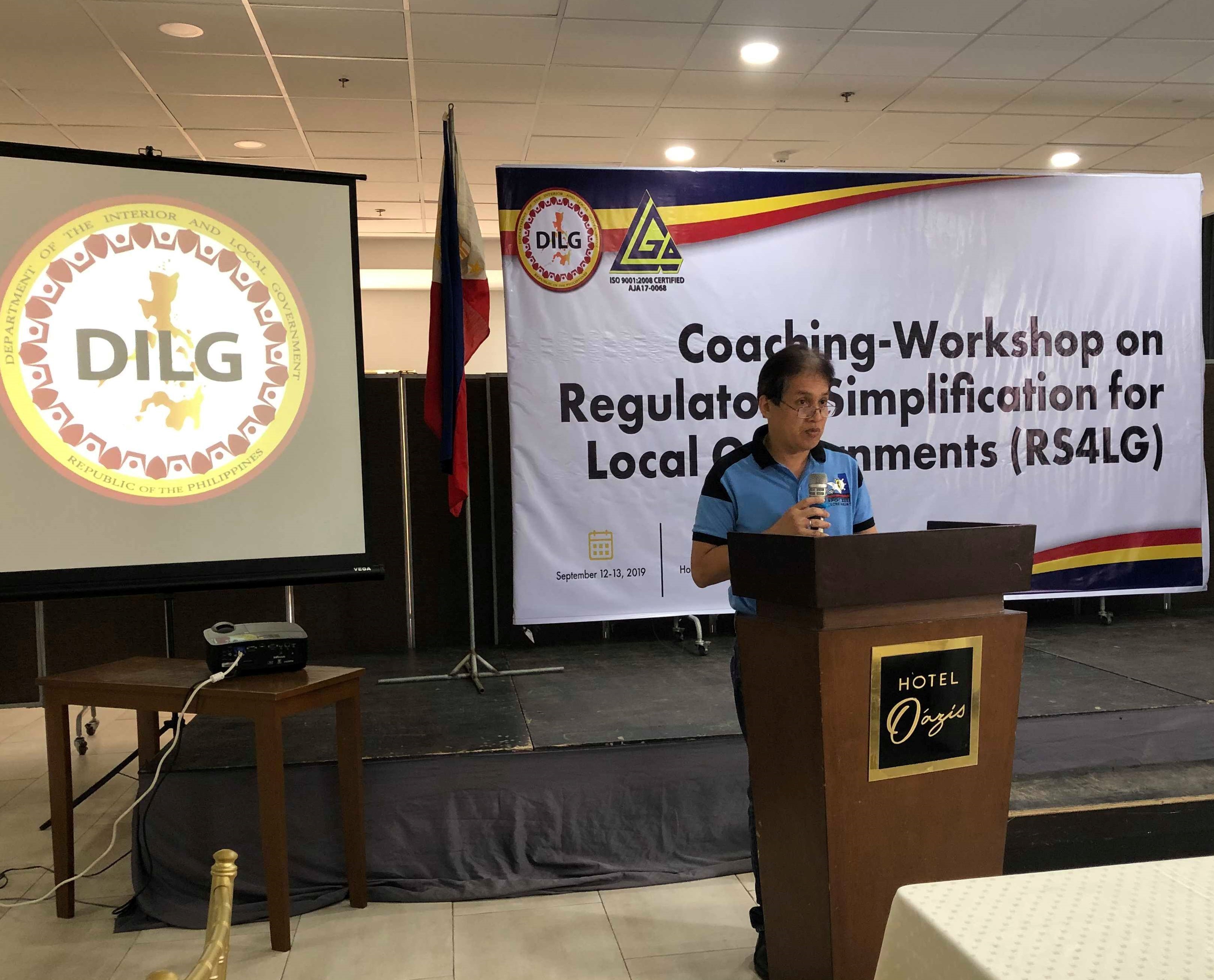 Twenty (20) cities and municipalities participated in the conduct of Coaching-Workshop on Regulatory Simplification for Local Governments (RS4LG) on September 12-13, 2019 in Hotel Oazis, Butuan City, which was facilitated by DILG 13 in coordination with the Local Government Academy.
Regulatory simplification is the process of making a business process simple and efficient by reducing or removing specific elements and keeping only the essential steps in the process. Thus, key officials like the BPLO and the Treasurer, among others, were coached to do exhaustive review of their city or municipality's regulatory framework with the objectives of removing unnecessary requirements in registering a business. 
This is in line with the President's platform of ensuring that the processing of business permits is fast tracked and the documentary requirements are reduced. As emphasized during the Opening Message of ARD Donald Seronay, "The focus of the RS4LG is to enhance the processing of business permits and licenses by streamlining documentary requirements of LGUs making them more attractive to investors". 
Ms. Mayette Patag, the Consultant and Resource Person on RS4LG, also stated that streamlining the process of issuing permits, licenses and clearances is only an initial step, "The dream is to have no contact policy in applying for business permits and licenses. The government is looking forward to it... a portal where anyone can transact, apply, pay, and then claim. The good news is that our government is trying to make it possible through RA 11032.
This year, the focus LGUs were supposedly the 4th to 6th income class municipalities since most have already been oriented on simplifying processes. However, based on the monitoring report on Business Permits and Licensing (BPLS) as well as the Governance Assessment Result (GAR) of the SGLG, there are still several LGUs that are not consistent in its compliance to BPLS standards and in fact, several LGUs have outstanding "red" color in the Business Friendliness area of the SGLG. 
Said activity was only one among the lined up activities such as The Caraga Roadshow on BPLS Automation, the Regional Rollout on PPP 101 and Joint Ventures, and the Campaign for Digital Governance Awards aimed to boost the business and investment environment of the Region as complement to the effort for peace and development. 
Indeed, while the current flow of activities puts the limelight on the implementation of EO 70 and peace-building interventions, we need to work harder in prepping the LGUs to be business friendly and competitive to guarantee positive outcome.
Details

Published: 18 September 2019