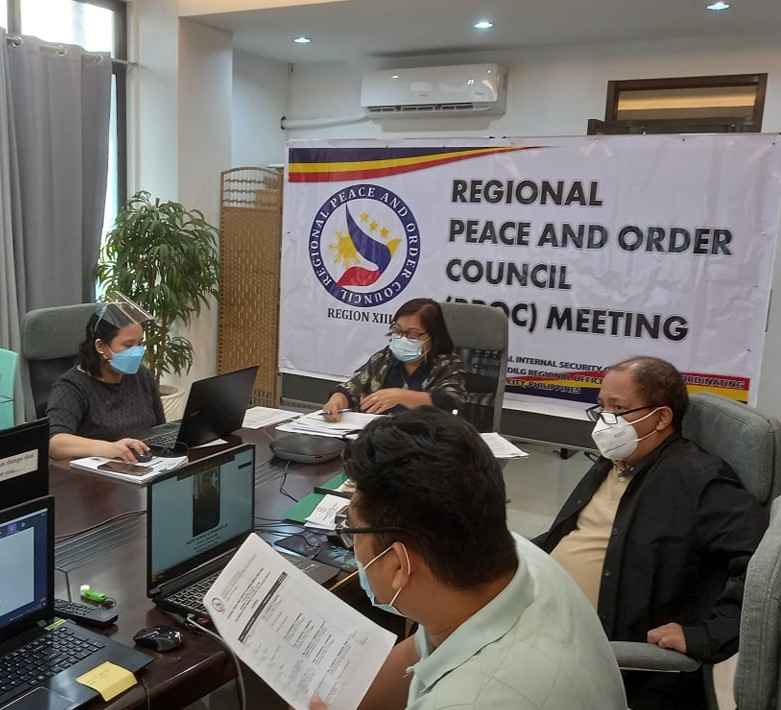 The Regional Peace and Order Council (RPOC) XIII - Caraga holds its 3rd Quarter Meeting for CY 2021 today - September 14, 2021 through a virtual teleconference via Zoom.
MGEN Romeo S. Brawner, Jr., 4th Infantry Division Commander of the Philippine Army is the newly installed Co-Vice Chairperson of RPOC XIII - Caraga as he took his Oath of Office during the meeting. 
DILG XIII Regional Director Lilibeth A. Famacion, CESO III reported the accomplishments and updates of RPOC in the region, highlighting the recently conducted activities of the National Crime Prevention Week (NCPW) Celebration with the theme: "Komunidad atPamahalaanMagtulungan: Krimen, Korapsyon at PandemyaLabanan". Also emphasized in her presentation was the surrender and assistance to Former Rebels and demilitarization of firearms under the Enhanced Local Comprehensive Integration Program (ECLIP).
Three (3) RPOC XIII Resolutions were approved and adopted, to wit:
Resolution No. 10, Series of 2021
"Resolution Adopting the Supplemental Guide on the Handbook in Handling Internal Displacement"
Resolution No. 11, Series of 2021
"A Resolution Commending the City of Cabadbaran, Agusan Del Norte for Being the First to Contribute for the CY 2021 RPOC Contribution"
Resolution No. 12, Series of 2021
"A Resolution Approving the Regional Peace and Order Council (RPOC) XIII Operational Fund Expenses for CY 2020 and CY 2021"
Significant updatesfrom the Philippine National Police (PNP) and the Armed Forces of the Philippines(AFP) were presented and discussed regarding the peace and order and public safety situation in the region. Highlights of the reports were centered on the counter-measures against criminality and insurgencies resulting from the attacks and schemes of the Counter Terrorist Groups (CTGs).
Part of the discussion was Presidential Proclamation No. 1218: Further Extending the Period of a State ofCalamity Throughout the Philippines dueto Corona Virus Disease 2019 Declaredunder Proclamation No. 1021, Series of2020. The Declaration will, among others, effectively afford the National Government, as well as local government units (LGUs), ample latitude to (a) continue to implement the COVID-19 vaccination program; (b) utilize appropriate funds, including the Quick Response Fund, in their disaster preparedness and response efforts to contain the spread of COVID-19; (c) monitor and control prices of basic necessities and prime commodities; and (d) provide basic services to the affected populations.
RD Famacion announced to the members that RPOC Chairperson – Hon. Alexander T. Pimentel will share the LGU Best Practice on the Caraga Roadmap for Peace during the Lecture Series on Peace and Local Government in the celebration of the National Peace Consciousness Month this coming September 23, 2021.(LGOO VI Florian Faith Jr. P. Bayawa, DILG XIII)
Details

Published: 16 September 2021